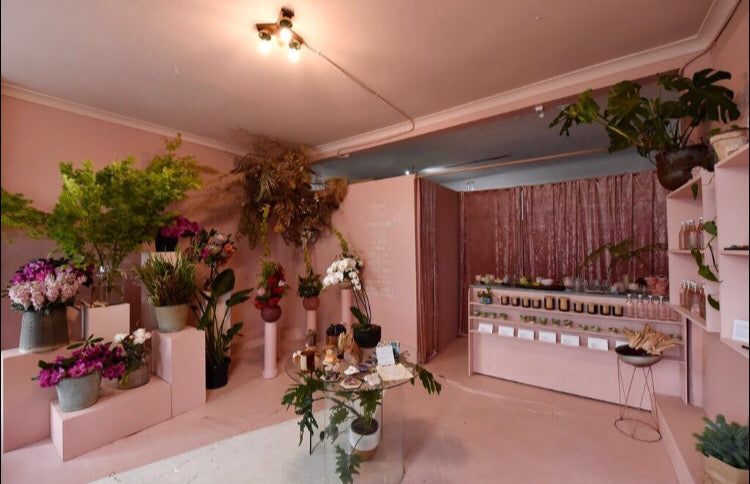 WE ARE DELIVERING FLOWERS TO ALL AREAS OF MELBOURNE THIS VALENTINES DAY - but not your typical red roses
I'd like to offer you a free tip for this Valentines Day. DONT buy imported roses (actually ever!) and for gods sake ask your florist to hold the floral foam and plastics! Both are damaging our planet to the max. Check out this bin of old blooms going to waste completely wrapped in plastic! (Aggghhhh Im crying right now.)
 ps. not...
---
So this style of bouquet, Wild Collective, seems to have been growing flower legs and walking out our Richmond door. Each day we are delivering flowers like these across all of Melbourne. Delivery areas include, Richmond, South Yarra, South Melbourne, Melbourne CBD, Abbotsford, Collingwood, Malvern, Hawthorn, Camberwell, Kensington, Flemington, East Melbourne, Albert Park, Windsor, Prahran, Heidelberg, Northcote, Fitzroy, Kew, St.Kilda, Elsternwick and plenty more  around our City. You can order yours online here, with us, at Lilac and the Cat. You'll be sure to have the most...
---
We Dont Support The Spring Carnival and Never Will.
In my 20 years as a florist I have finally made the commitment to stand against Horse Racing. Lilac and the Cat will not be supporting Spring Carnival this year or any other year for that matter. Which means we wont be supplying flowers that has anything related to the horse racing industry. Up until recently I had no idea of what really happens behind the glamour of The Melbourne Cup. 
(All Information taken from Animal Australia's website.)
Did you know?
Whilst in training, horses may be individually stabled...
---
What makes us a Sustainable Florist.
Richmond's most loved Florist.
Melbourne is a place where we are able to express ourselves creatively and we have a great awareness to environmental issues allowing us think twice about the things we buy day to day. We are lucky to be given the option to purchase green. 
At Lilac and the Cat, Richmond's leading florist, we choose to be an Ethical and Sustainable small business. One of the things we do to achieve this is using recycled products for our wrapping, such as recycled wall paper and recycled plastic wrap. These are simple...
---
Why we are a Sustainable florist.
Throughout my life in the flower industry I have watched flower shops dispose of so much landfill. It's sad to see so much wastage in the Flower Industry just from laziness. Gifts don't need to be imported and flowers don't need to be arranged in floral foam nor wrapped in cellophane.
Since starting Lilac and the Cat, Melbourne's online Florist, we promise to continue our sustainable use of products forever and ever. We reuse the plastic packaging for our wet packs, up...
---